In order to cater variety of market segments, We at AIW produce prototype castings of different varieties using 3D printed cores/moulds.
The castings are made in shortest record time to support customer requirement. Our foundry setup consists of 3 foundries located at different locations.
Three Foundry Facilities
Ashok Iron Works – Plant I
Ashok Iron Works – Plant II
Ashok Iron Works – Plant III
These 3-foundry setup enable us to cater industry with variety of products equipped with different technologies, sizes & volumes. Our all foundries have suitable infrastructure for the wide & varying range of product requirements, which give us capacity to generate high level quality at optimal costs. Induction melting, Spectrometer, lab facilities, cold box technology for core manufacturing and finishing the set up are used across the foundries with adequate level of automation to suit with the modern manufacturing process. Our Project Engineering Teams work continuously towards efficiency to improve and adopt the latest technology to keep driving the foundries towards excellence.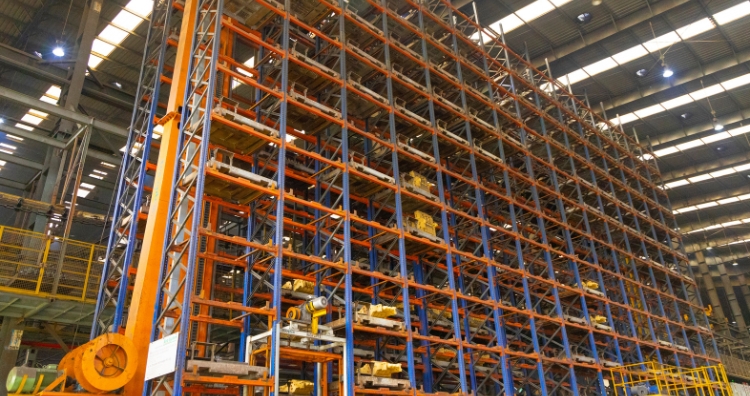 Ashok Iron Works Plant-I:
Plant-I is a Green Sand Foundry having capacity of 20,000 tons per annum with 4 jolt squeeze moulding lines, manufacturing medium volume Grey & SG Iron Transmission Housings, Engine Blocks and other castings products. These products have a weight range of 20 kgs to 150 kgs per piece. Furthermore, Plant-I has a nobake floor moulding line for manufacturing the castings up to 500 kgs per piece.
Ashok Iron Works Plant-II:
Plant-II is a No bake Sand Foundry with capacity of 25,000 tons per annum having fast loop and floor moulding lines, manufacturing low & medium volume Grey, Alloyed Grey & SG Iron heavy duty Engine Blocks, Heads & Housings. These products have the weight range of 20 kgs to 2500 kgs per piece. The uniqueness of the set-up is made in such a way that the sand used for core making is 100% thermally reclaimed. Today, Ashok Iron Works Plant-II is the largest producer and market leader in the Heavy-duty Engine Blocks & Heads segment in India. The foundry specializes in manufacturing of the number of V type Engine Blocks weighing up to 2500 kgs per piece in Grey & SG Iron.
Ashok Iron Works Plant-II takes the pride of manufacturing the most complex 6 Cylinder Engine Head weighing 170 kgs which is one of its kind in India. Our large core shooting machines with 150 litre capacity and moulding lines create high-quality dense cores with low porosity, followed by robotic grinding. The precision and correct finishing accomplished with Robotic Grinding helps mainly in strong reproducibility and minimising rejection.
Ashok Iron Works Plant-III:
Ashok Iron Works Plant-III is a Green Sand Automated Foundry has the capacity of 72000 tons per annum with the high-pressure moulding line, manufacturing high & medium volume Grey Iron Engine Blocks, Heads & Transmission Housings. At, Plant-III we manufacture products with the weight range from 20 kgs to 270 kgs per piece.
Ashok Iron Works Plant-III is one if largest facility among Ashok Iron Group's all plants. The Infrastructure is sprawled over 1.2 lakh square feet where The shop floor an aptly designed built up of a 42369 sq metre. The huge facility has a state-of-the-art high-pressure moulding line, production lines with latest technology, dedicated departments, conference rooms and training rooms. A spacious and ambient canteen adds to the desirability of the entire workplace.
To match the future demand of intricate thin wall engine blocks Ashok Iron Group has the state-of-the-art Loramendi core cell and Kunkel Wagner high pressure moulding line with high performance.
Kunkel Wagner:Automatic High Pressure Moulding Line with Twin Press
Twin Press Moulding Machine
Mould Box size- 1300 X 1000 X 450/450 mm
Line speed- 90 MPH
Sand Plant- 150 TPH
Capacity- 60000 TPA
The Loramendi Core line – Engine Block Core Cell with Robotics
4 machine cell.
Machine size –
1750 X 1250 mm – 2 nos.
1300 X 1100 mm – 1 no.
1100 X 900 mm – 1 no.
Water jacket in cold box process
Capacity – 1000 blocks Per Day
Core assembly & paint dipping with Robots
Fettling Automation at Ashok Iron Group
DS1 Manipulator Type Shot Blasting Machine to shake out hot casting for safe simple handling.
Decoring Machine
Robo grinding
Painting Line
Conveyorized movement of Castings
Spectrometry Lab:
High-tech spectrometer lab, fully equipped with latest testing equipment's gives us precised control required for tensile, hardness and other tests. We use intensive sand mixer and controller with computerized control to measure Sand properties like strength & moisture level which helps to control the sand's compaction, wetness, and strength.
Summary of Foundries Business Parameters
Facility Parameters
Plant – I
Plant – II
Plant – III
Capacity (TPA)
18000
30000
72000
Box Size (mm)
1200 x 800 x 380 /380
2800 x 1400 x 680 /680
1300 x 1000 x 400 / 400
Casting Weight (Kg)
20 ~ 200
20 ~ 3000
20 ~ 270
Material Grade
Grey Iron
Grey & SG Iron
Grey Iron
Components
Cylinder Blocks & Housings
Cylinder Blocks ,Heads & Hsgs
Cylinder Blocks, Heads & Hsgs
Moulding

Jolt Squeeze Moulding
ARPA 1300 – 2 Lines
ARPA 900- 2 Lines

No Bake – Automatic
Fast Moulding Loop .
Thermal Reclamation
Sand Plant
High Pressure Kunkel
Wagner Moulding Line with Twin Press
Melting
MF Induction Furnace
MF Induction Furnace
MF Induction Furnace
Core Shop
Shell Core & Cold Box Shooters
Shell Core & Cold Box Shooters
Loramendi Cyl Block Cell
Laboratory
Spectrometer, Full Fledged Facility
Spectrometer, Full Fledged Facility
Spectrometer, Full Fledged Facility